Name: Unknown
Nickname: Crimson Wrath
Hometown: Unknown
Age: Unknown
Personality: Heel, Delinquent, Cocky
Height: 6'2 (1.89 m)
Weight: 235lbs
Entrance: Drives a red Ferrari
Song: Heaven Shall Burn - The Weapon They Fear
Tag Team: The Killaz-CW & DD
Tag Entrance: Korn-Here To Stay
Finishers: 304, Brutalizer
Trademarks: Killa Chokeslam, East Coast Slam
Appearance:
Classic look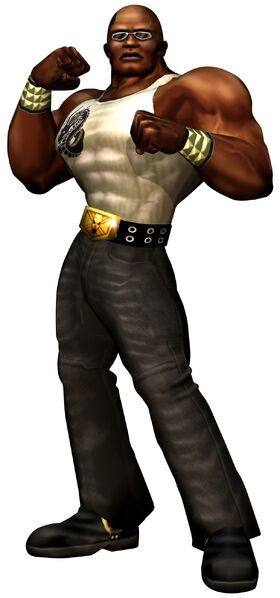 Little is known of his past, however CW used to be a mercenary as well as an assassin. Being a heartless cold-blooded killer was definably a job that suited him. Though he was good at what he did, he had a bounty on his head and he knew it'd only be a matter of time before he'd end up with a bullet in his skull. So he decided to take on boxing. Where he earned the name Crimson Wrath from all the opponents who got their faces bashed in. He never turned down a fight no matter the opponent or his physical condition. It was said that he fought until his body didn't allow him. CW had fought fierce for many years, he never challenged for the boxing titles but beat the champions to show that he was the best there was. Until one day he challenged for the heavyweight boxing title and took a punch so hard to the temple his skull cracked. Somehow he defeated the champion but afterward collapsed. He was thought to be dead but survived the nearly mortal injury only to find out that he would have to quit boxing as he was to dangerous, the idea of it enraged him so much that he killed the head of the business. He soon realized his wallet was going dry, he needed a new profession. He couldn't go back to killing for a living because the FBI was after him and he had to maintain a low profile so he made the decision to train in Sambo, which is a vicious wrestling fighting style. He began to broadcast his fighting skills in underground fighting federations. It wasn't long after he began dominating the street fighting business before he received a contract from the Galactic Wrestling Alliance. He hesitated with the offer but came to the realization that it was one he couldn't deny. Though he's a fierce wrestler, sometimes his boxing skills will kick in. Which makes him double the trouble, he's not in GWA for any pansy choreographed slams. He's there to fight like he always has, and brutalizing his opponents is first on his agenda.
List of people the Killaz have Killed off!
AJ Gators
Apple Muncher
BCC158
Big One
Blitz Bomber
Broxazo
Caboose
Carl Perkins
Carlos Omse
Chris The Truth Schulz
CJ Aussie
Coop DeVille
Craigyboy
Dazl
Death Rider
Diablo Knight
DJ Nerate
Dodgy Kiwi
Drexler
DRRL
Dr. Skellington
Fish
Gon
Golverg
Gorthrax
Icey1
Iron Golem
Jackster
Jade Deathstrike
Jagi
Jimmy The Big Hit Lee
Jerry G
Joey The Volcano Krakatoa
Kahless
Kenshiro
Kim Sousa
King Dragon
Leakage
Magnus Maximus
Man Beast Nick
Marlon Brandon
Max Mayhem
Mercury Storm
Micmonster
Mystic
Nuclear Lolita
Powerhouse Powell
Psychosis
Rajiv Ratan
Rated R Shwan Star
Roah The Conqueror
Rolando7
Ryan Ice
Speedhawk
Speedster
Squalt
Squelch
Starblazer
Strait-Edge
Swift Silver
Tanaka
The Phenomenal Nekko-Styles
The Pro
The Red Wolf
Tiby Don
TNT Travis N Thompson
Toki
Tripple HHH
Tyrone Davidson
Veliesmo
White Devil
Wolf Destroyer
Xion
Zeus Dark Warrior
The path of destruction will continue....